Cosmetics Lab Renovation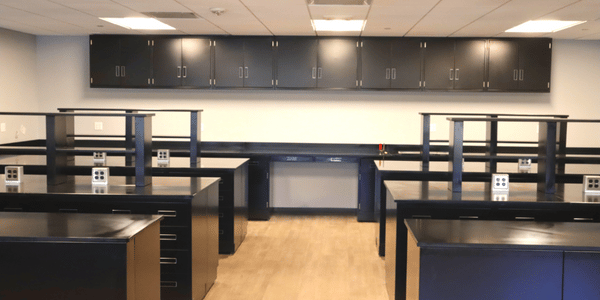 Our Latest Commercial Lab Project
If you keep up with our blog, then no doubt that by now you have seen several of the renovations that we have done at schools, such as our New Providence School District Lab Renovation Project. Today, however, we are featuring our latest commercial lab renovation project, which we did for this cosmetics lab. Commercial labs are a bit different than educational classroom labs, and therefore the projects look a bit different. Here at Longo Labs we specialize in turning visions into realities for classroom and commercial laboratory renovations. Let's take a look at our cosmetics lab renovation.
Planning the Lab Renovation Project
Our client for this project was a cosmetics company located in New Jersey. Our team worked directly with their team to bring this project to life. To start, we had a meeting with them and took field measurements, which allowed us to then create the initial preliminary drawing for the client's team to revise as needed. Once we agreed upon the preliminary drawing, the next step was to get them a quote.
Fortunately, the numbers on our quote fit well within their budget and we received a purchase order. With the purchase order in, our team was able to create the official shop drawings for the client's approval. Once approved, the materials needed for the project went into production, and once produced they were delivered and installed.
Smart Planning Saves Both Time and Money
Part of planning a lab renovation project is considering what is already there on the property that we will be renovating. An important step that we always take when creating our design is considering where the existing waterline is. When installing new sinks we always make sure that we place them on existing water lines because that way there is no construction or trenching required, which saves our clients both time and money. Our team coordinated with the client's internal team for the electrical and plumbing connections.
Products Used for this Commercial Lab Renovation
Since this client specializes in active ingredients for use in cosmetic and personal care products, it is important that their laboratory equipment is well suited for the work that they do. Therefore, our team installed metal cabinets with epoxy resin countertops and shelves. The client chose the color black for the finish of their cabinets and countertops. They also chose a large, stainless steel utility sink for maximum space to clean their equipment. Instead of the traditional pull handle, they chose a custom recessed pull handle for the sink.
Next, we installed lab desks for their technicians that sit at a lower height than their standing counters, giving their team the flexibility to work alone at a desk or standing up with their team at the standing-height peninsulas. Not only do these products fit well into the lab space, but the flexibility that it offers their technicians will allow for maximum comfort and productivity.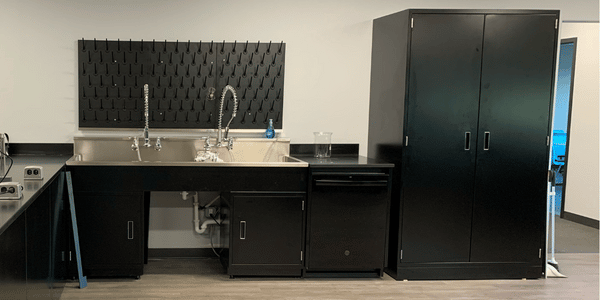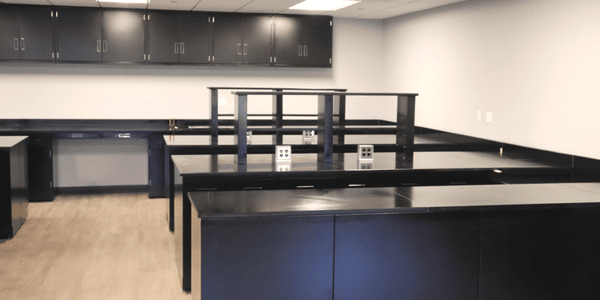 Customization is Key
Since Longo Labs offers so many customization options, this cosmetic company was able to choose the best options for metal casework that fit their lab space, including both cabinetry and shelving options. They chose multiple different cabinet sizes to fit their bulky materials and equipment, and their upright shelves and doghouse electrical units provide a safe way to maximize the available space.
Are You Planning a Commercial Lab Project? Let Us Help!
When you are working on a commercial lab renovation, you should be able to customize the project and make it fit your budget. That's where Longo can help you. Get in touch with us or schedule a consultation with our team of lab renovation experts. Our goal is to help turn your vision into a reality and help you plan, design, and install your commercial lab renovation project.