The Sheldon STEM Station is here!
STEM – you are seeing it everywhere! What exactly is STEM? STEM is the acronym for Science, Technology, Engineering and Math education.  It's even gaining the attention of President Barack Obama. The President is quoted as saying:
"Science" is more than a school subject, or the periodic table, or the properties of waves. It is an approach to the world, a critical way to understand and explore and engage with the world, and then have the capacity to change that world…"1
According to the U.S. Department of Education, a very small percentage of American students are seeking out this field and, we are also in desperate need of teachers. President Obama's main concern has been to expand the number of both students and teachers who are skilled in these fields.
The graph below shows the projected percentage in the increase of STEM jobs from 2010-2020.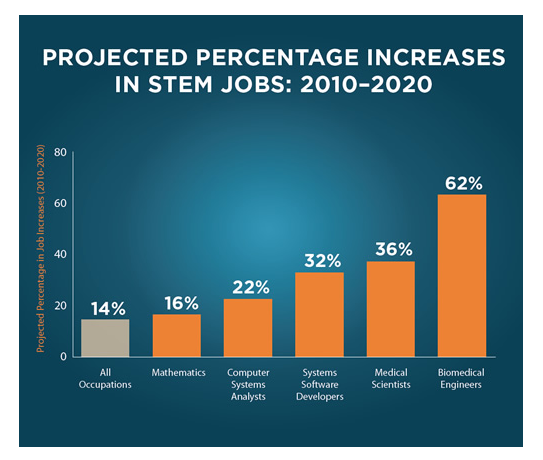 SOURCE: U.S. Department of Education
With the surge in STEM, the need for schools and universities alike to have the necessary equipment for classroom instruction is growing. The state of the art Sheldon STEM Station offers complete flexibility, without compromising quality and durability. The STEM Stations are available for purchase under state contracts — ESCNJ, MHEC and PA COSTARS. Here's a glimpse of the Sheldon STEM Station:
Click to download your Sheldon STEM Station Brochure
Contact Longo Labs today for more information on STEM Stations for your school or university
Click here to read more about President Obama's STEM initiative
1 The U.S. Department of Education, http://www.ed.gov/stem