Chemistry Lab Furniture for Kearny High School Renovations
Kearny High School, located in Kearny, NJ, is a four-year comprehensive public high school serving students in grades 9-12. The high school recently underwent Chemistry Lab Renovations, and choose Longo Labs to get the job done.
Longo's quality and cutting-edge products such as the Sheldon Axis Infinity Table, Oak Wood Laboratory Casework, ADA Airfoil Fume Hood, and Sheldon Wall Sink Center were used in the renovation to create a modern, adaptable Chemistry Lab for the high school.
Below are a few stock photos of the proposed products:
Below is a drawing of the proposed laboratory classroom space: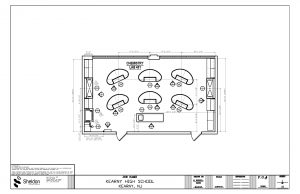 The architect for the project was DiCara Rubino.
With the help of the Educational Services Commission of New Jersey (ESCNJ) purchasing contracts, the school was able to again obtain the high quality, modern style science lab furniture for their classrooms. This contract allows any public entity in New Jersey to skip the extensive bid process and additional fees by purchasing directly from Longo Associates Inc.